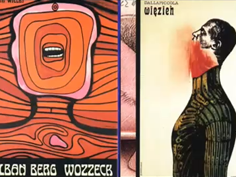 Freedom on the Fence is a 40 minute documentary about the history of Polish posters and their significance to the social, political and cultural life of Poland. The film examines the period from WWII through the fall of Communism, and captures the paradox of how this unique art form flourished within a Communist regime.
The documentary contains interviews with older and younger generations of poster artists, examples of past and current poster work, historic and current film footage of where and how the poster is viewed, and commentaries from both American and Polish scholars and artists on the significance of the Polish poster as a cultural icon.


2009 / 06:30 / USA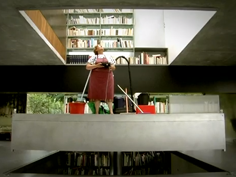 "Het is geen flatteus beeld, maar wel realistisch" (Rem Koolhaas). In Koolhaas Houselife leidt huishoudster Guadalupe Acedo ons rond door het Maison à Bordeaux, in 1998 ontworpen door Rem Koolhaas en zijn bureau OMA. Het is een meesterlijk voorbeeld van recente moderne architectuur. Anders dan andere films over architectuur concentreert deze zich niet zozeer op de structuur en virtuositeit van het gebouw. De toeschouwer krijgt de kans om binnen te dringen in het verborgen huiselijke leven in een architectonisch icoon. Aan de oppervlakte lijkt deze documentaire een karikatuur van alles wat er mis is met het gebouw, hiermee de geldigheid bewijzend van de uitdrukking "all great architecture leaks". Terloops wordt verwezen naar de absurde moderne wereld van Jacques Tati's Mon Oncle. Hoewel de film eerder het prozaïsche benadrukt dan het esthetische, houdt de kijker er een zeldzaam inzicht in dit gebouw aan over. Een experiment en een nieuwe visie op architectuur.

www.koolhaashouselife.com

2007 / 09:20 / IT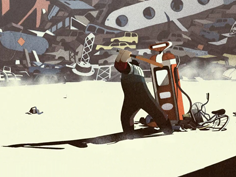 A lonely artist sets up his master piece in the middle of a junk yard.
De Marion DELANNOY, Jonathan DJOB NKONDO, Paul LACOLLEY, Kevin MANACH, Nicolas PEGON, étudiants de la formation Concepteur et réalisateur de films d'animation (2e année) à GOBELINS, l'école de l'image.
Film réalisé comme court métrage d'ouverture pour le Festival International du Film d'Animation (FIFA) d'Annecy 2010.


2010 / 00:56 / FR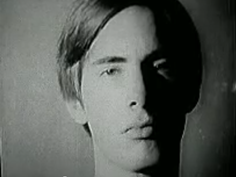 Richard Rheem is described in the first volume of the Warhol film catalogue raisonne as "a young man from a prominent California family" who met Warhol at a party given by his uncle Bob Rheem and the artist/poet Liam O'Gallagher to celebrate the opening of the E.P.I. Warhol asked Rheem if he'd like to be in movies.
After Warhol returned to New York, Rheem wrote him some letters and spoke to him on the telehone. Two letters from Rheem have been found in Andy Warhol's Time Capsule 79 - one dated July 27, 1966 and another dated September 7, 1966. He arrived in New York around the beginning of October 1966 and a romance with Warhol ensued, with Rheem giving Warhol's address as his own (1342 Lexington Avenue) on a talent release dated November 7, 1966. Victor Bockris' biography of Warhol has them living together until the second week of December 1966. After they split up Rheem continued to write to Warhol on a friendly basis as letters from him have been found in Time Capsules 12, 19 and 10 from 1968 and 1969.
In addition to being the subject of four Screen Tests, Rheem also appeared in Tiger's Place, The Andy Warhol Story (as Gerard Malanga), Richard and Mary I and II (with Mary Woronov), Since (as Governor Connelly), the colour version of Susan-Space, Ingrid and Richard, Mrs. Warhol and The Bob Dylan Story.

2009 / 04:00 / USA